rgb(206,250,211)
—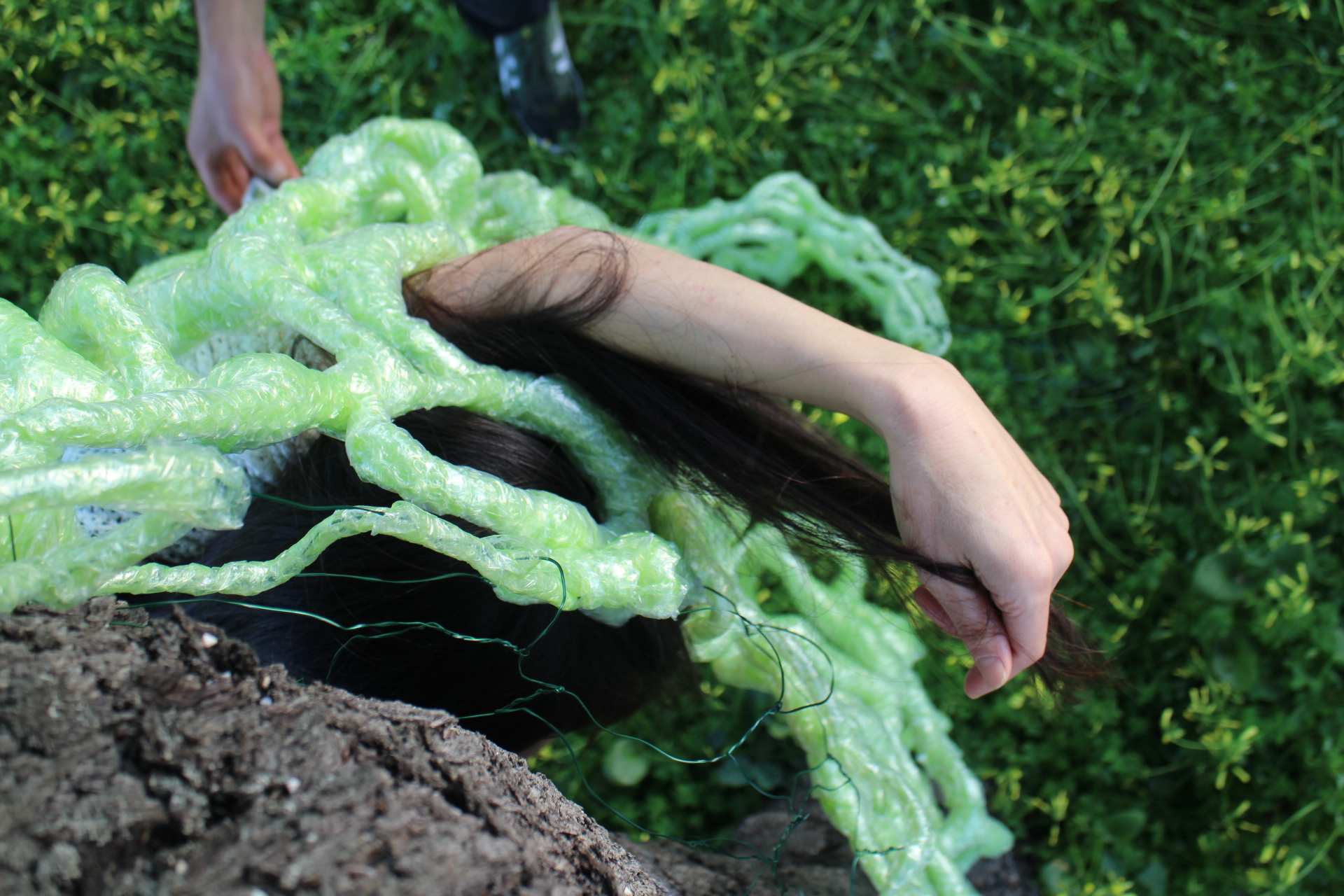 Liquified dream of a dragonfly
Artist(s)
Yuko Kominami, Ichiko Funai, Tomás Tello
VENUE: courtyard of the former National Library of Luxembourg, rue Notre-Dame (next to the cathedral)
Through their collaboration, choreographer Yuko Kominami and costume designer/installerIchiko Funai work on the search for a new mode of expression. The dance consists of a metamorphosis: larva? chrysalis? nymph? butterfly? The boundaries between costume and body are lost - the costume is part of the body, and at the same time part of the space, like a second skin, a third skin, like that of a nymph that moults again and again and again.  
The performance suggests breaks in the static environment and invites to share the joy of metamorphosis.
Born in Japan in 1973, Yuko Kominami studied butoh and dance in Tokyo. She works as an independent dance and performance artist. She has collaborated with many dancers, choreographers, artists - including Karolina Markiewicz and Pascal Piron on the exhibition Stronger than memory and weaker than dewdrops, musicians and local and international theatre directors. Her last performance at the Casino, In Ritual, was a dance duet with Joana von Mayer Trindade in February last year. 
Ichiko Funai was born in 1990 in Osaka, Japan. She graduated from the Department of Moving Images and Performing Arts at Tama University of Art and Design, and began drawing as a child, acquiring the fundamental knowledge of painting under the guidance of Sadao Sato as a teenager. At the same time, she studied tailoring, before launching her fashion art project fifi, in 2011.
Dance: Yuko Kominami
Installation/costume: Ichiko Funai
Music: Tomás Tello
Photo: courtesy the artist
Partners
Production: Rhysom Danz Kollektiv
Coproduction: Ministère de la Culture
Sponsor: Kawakami Sangyo
In collaboration with: Administration des bâtiments publics