Altars of Madness vol. 2 (Out of stock)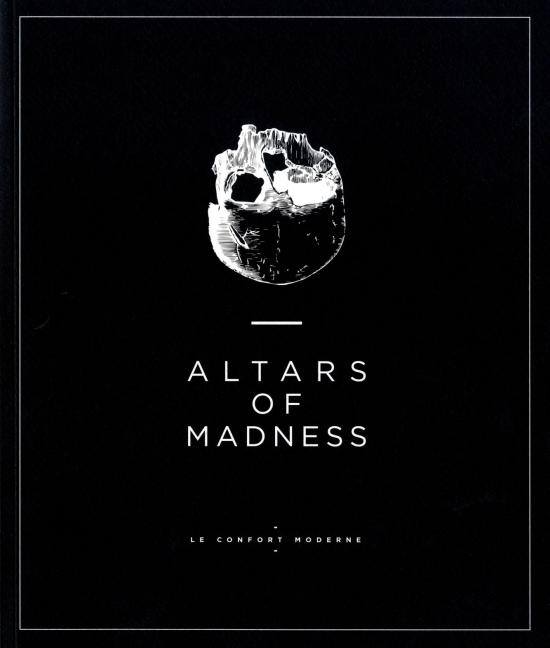 Altars of Madness is a catalogue published in the context of the two exhibitions of the same title presented at Casino Luxembourg (19.05 – 15.09.2013) and at Confort Moderne Poitiers (28.09 – 15.12.2013). The publication consists of two volumes exploring the notions of extreme, underground, as well as the links between contemporary art and extreme metal.
Artists: Matthew Barney, Nicholas Bullen, Larry Carroll, Gregory Cuquel, Damien Deroubaix, Seldon
Hunt, Gregory Jacobsen, Theodor Kittelsen, Harmony Korine, Elodie Lesourd, Juan Pablo Macias,
Mael Nozahic, Torbjorn Rodland, Steven Shearer, Mark Titchner, Gee Vaucher, Banks Violette
Vol. 2
Languages
English, French
Texts
Yann Chevallier, Jérôme Lefèvre, Dieter Roelstraete, Thibaut De Ruyter
Exhibitions
Altars of Madness
19.05 – 15.09.2013, Casino Luxembourg
280.9 – 15.12.2013, Le Confort Moderne, Poitiers
Pages
144 p. (in two volumes), ill.
240×285 mm
Layout
Maks L., Paris | www.pathologikal.com
Co-publishing
Casino Luxembourg – Forum d'art contemporain, Luxembourg; Le Confort Moderne, Poitiers, 2013
ISBN 2-908252-53-8