Don't Worry – Be Curious! (Out of stock)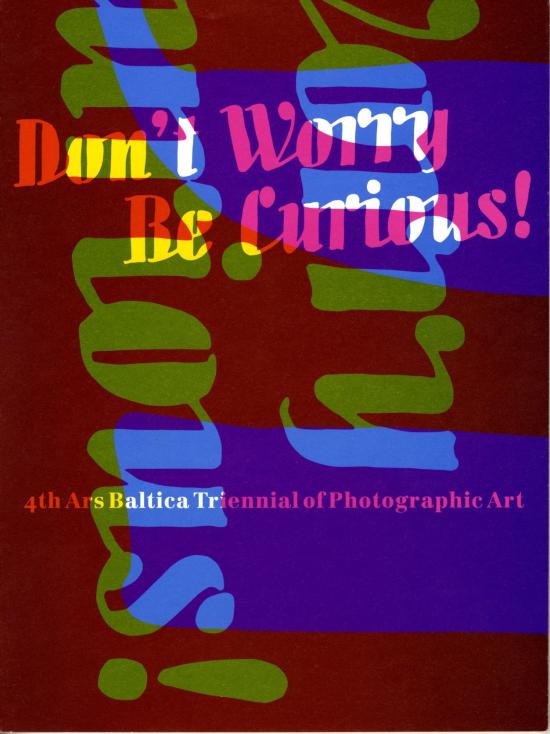 The exhibition Don't Worry – Be Curious! presents photographs, videos and installations by artists who, in their own way, question the gap between reality and the fears generated in today's societies. In Luxembourg, Don't Worry – Be Curious! is an expanded version of the exhibition of the same title held as part of the 4th edition of Ars Baltica – Triennale d'art photographique.
Artists: Petra Bauer, Anna Baumgart, Pavel Braila, Olga Chernysheva, Alexandra Croitoru, Colonel and Khaled D. Ramadan, Goran Devic, Bodil Furu, Kaspars Goba, Kristina Inciuraite, J&K, Sven Johne, Tellervo Kalleinen and Oliver Kochta-Kalleinen, Talleiv Taro Manum, Tanja Nellemann Poulsen, Anu Pennanen, Katrin Tees, Alexander Vaindorf, Arturas Valiauga, Julita Wojcik
Language
English
Texts
Petra Bauer, Dorothee Bienert, Zygmunt Bauman, Anders Eiebakke, Lukasz Galecki, Boris Kagarlitsky, Kati Kivinen, Enrico Lunghi, Simon Sheikh, Hito Steyerl, Annika Ruth Persson, Audrone Zukauskait
Exhibition
Don't Worry – Be Curious!
12.07 – 14.09.2008
Pages
136 p., ill. in colour; 19×25 cm; biogr. (sel.).
This catalogue is presented together with two brochures containing exhibition views.
Published by
Revolver, Archiv für aktuelle Kunst, 2007
Layout
all l Gute Getsaltung, Berlin
ISBN 978-3-86588-387-2