rgb(32,58,227)
—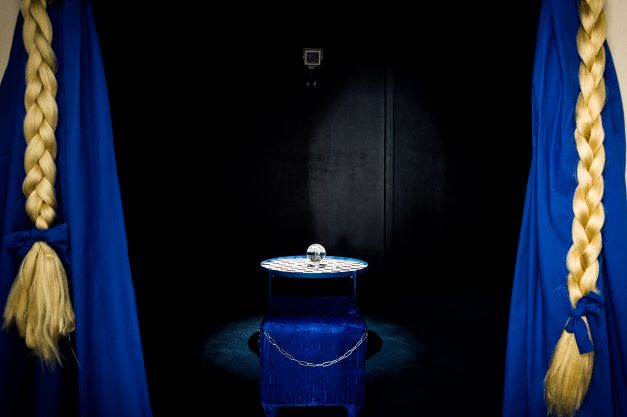 I Will Not Return to a Universe of Objects That Don't Know Each Other
VENUE: Casino Display, 1, rue de la Loge, L-1945 Luxembourg
Sparked by an epiphanic reading of Lisel Mueller's poem "Monet Refuses the Operation", the exhibition I Will Not Return to a Universe of Objects That Don't Know Each Other explores the possibility of reconsidering our engagement with the Internet as a transcendent spatial experience in which the "world is (still) flux." 
The poem reflects on the French painter Claude Monet's initial decision to not medically treat his cataract (a condition in which the eye lens becomes increasingly opaque), and how this refusal might even have benefited his painting. Mueller's crucial insight is that an apparent flaw can create openings towards new experiential paradigms and even reveal the limitations of the purely functional order of things. 
Following this idea, the exhibition seeks to shed a different light on what is effectively dismissed as nonsensical oddities in our habitual cyber interactions: failed algorithmic pattern recognitions, dead links leading nowhere, bad gateways, pages without apparent functions, visual glitches or liminal, "dangerous" hosts.  These phenomena are gradually vanishing in the increasingly streamlined online experience on private platforms, a fact which may well be seen as the true cataract befalling the digital user: a growingly opaque interaction with a medium of untapped vivid possibility. The exhibition therefore attempts to make the viewer adventure into the repressed imaginary of the Internet's banished ruins without the aid of an interface. They are left radically alone to make sense of this objectal-digital landscape and to explore new forms of inhabiting and traversing its spatial reality.   
     
There is room to consider the Internet beyond a merely functional framework and to dive into its dissonant vortex of mnemic phenomena. In fact, it harbors within it the potential of acting as a playground for new spatial interactions and interpretations. Perhaps herein lies the chance to heave this medium beyond the mold in which it has already revealed the last of its surprises. 
—
Exhibitions
Artist residency
Opening: Friday 08.07.2022 from 18:00 to 21:00
Opening times: from Monday to Saturday from 13:00 to
19:00
Closed on Sundays and Tuesdays
Free entry
See also:
Thursday 14.07.2022, 19:00
From Ether to Eden
Colloquium and artist talk with Lynn Klemmer, Christopher Michael, Mathieu Buchler, Saelyx Finna