rgb(187,252,132)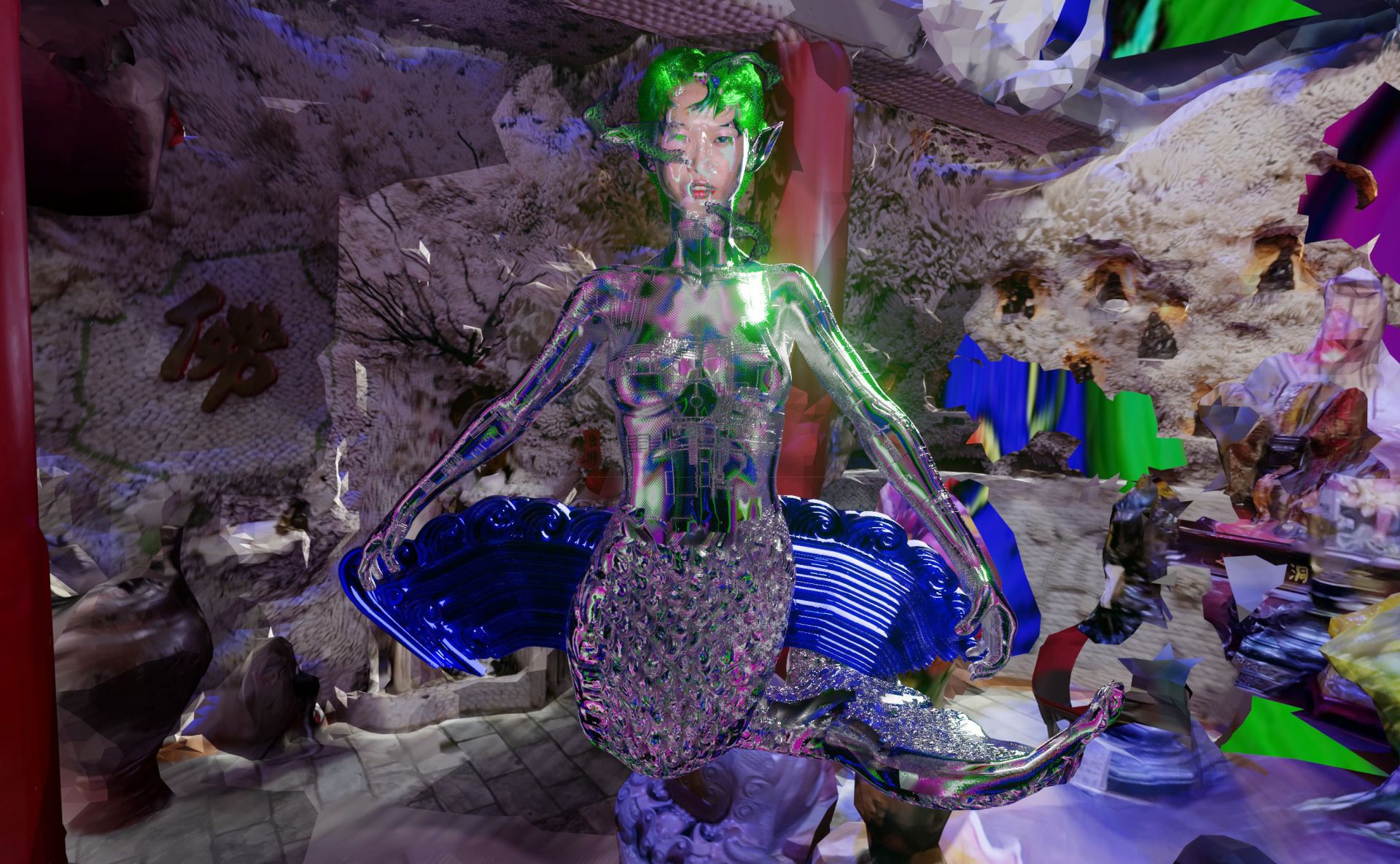 MIRAGE ECSTASY – Luxembourg Art Week opening night
Artist(s)
Betty Apple, Social Dis Dance
Curator(s)
Amy Cheng / TheCube Project Space, Forum Music Festival, Taipei
Taiwan's queer mermaid diva Betty Apple and the avant-garde electronic ensemble Social Dis Dance will perform their newly produced piece MIRAGE ECSTASY, thus kicking off the 2023 edition of Luxembourg Art Week.
MIRAGE ECSTASY consists of two interwoven art performances – the immersive Mermaid Escape Room by Betty Apple and the live art and experimental electronic music set Social Dis Dance by the collective of the same name –, combining narrative storytelling, technology, audiovisual recordings, live performance and installations, hence transforming Casino Luxembourg into a fluid 'oceanic space'.
Starting from the context of Taiwanese sci-fi queer culture, the show leads the audience into the realm of contemporary alternative body thinking, especially the first segment, Mermaid Escape Room, being rooted in the philosophy of bodily transformation. Simultaneously, it challenges traditional gender norms and societal conventions, presenting mermaids as symbols of disruptive and deconstructive identities.
Betty Apple (born in 1986, lives in Taipei) is a Taiwanese avant-garde artist. She graduated from the Taipei National University of the Arts Department of Theatre Arts and the Graduate School of New Media Art. Betty Apple skilfully intertwines art and music in her work, with a strong focus on body politics and performance, all framed by her experiences as a millennial navigating post-colonial Taiwan. Her art transforms symbols of popular culture and consumerism into sound elements, often incorporating mass-produced erotic or entertainment items like vibrators, underwear, or sex dolls in a provocative manner, all concealed within her body.
Betty Apple has participated in numerous art events and exhibitions including FdS – Festival artistique des affects, des genres et des sexualités (2023, Lausanne, Switzerland), Pleasure & Protest (2022, Museum of Contemporary Art Australia, Sydney, Australia), Melbourne Fringe (2022, Melbourne, Australia), Santarcangelo Festival 2050: FUTURO FANTASTICO (II movimento) (2021, Santarcangelo di Romagna, Italy) , CQ 5 CTM x Club Qu x Resident Advisor Online Festival (2021) and Mona Foma (2021, Tasmania, Australia).
With a background in computer science, Viktor Lin works in the field of new media design, specialising in the creation of multi-sensory interactive works through the means of programming and coding. He founded the multimedia design studio A Copy of A Copy in 2014. His projects often utilise combined methods of motion detection and real-time generative audio-visual effects and field recordings, resulting in a holistically coherent yet non-repetitive/unique sensory experience.
As an interior designer, Horse Huang likes to incorporate materials such as wood and metal in his projects. The spaces he crafts serve as the settings for performances where synth-generated sounds adapt to space in a very sensitive and intuitive way. These experiences allow Huang to further examine the spaces we inhabit from various perspectives, providing him with an opportunity to gain a new understanding of the essence of architecture.
Dancers and photographers are invited to create whimsical live images. Queer photographer Chien Wen Lin, up-and-coming choreographer Lee Chin-Chieh and Dylan Song, and VJ One Spicy, who is an expert at weaving and image design, as well as several drag queens, are all invited to collaborate in creating the multivariate creative scene. 
TheCube Project Space is an independent art space founded by art critic and independent curator Amy Cheng (lives and works in Taipei) in 2010, devoted to the research, production and presentation of contemporary art. As a non-profit art organisation, it aims to explore local culture in depth, connect people from diverse backgrounds, and promote cultural exchanges between Taiwan and the international community. 
Distribution:
Betty Apple (live art / vocals / music production)
Viktor Lin (live music / visual director)
Horse Huang (live music)
Teom Chen (visual design / VJ / AI generator system design)
Chien-Wen Lin (live camera)
Yi-Wei Tien (dancer)
Rizzy (dancer)
Migu (DJ, Labelboat, Berlin)
Installation Design: A Copy of a Copy, Madeinvoid Space Design
Stage Manager: Chun-Han Chiang
Creative Production Manager: Po-Tsun Lin
Visual courtesy the artists
Music
Performance
Luxembourg Art Week
Performances + afterparty
20:00 – 03:00
Free entrance
drinks by Public House
food by Chiche!