rgb(228,229,211)
—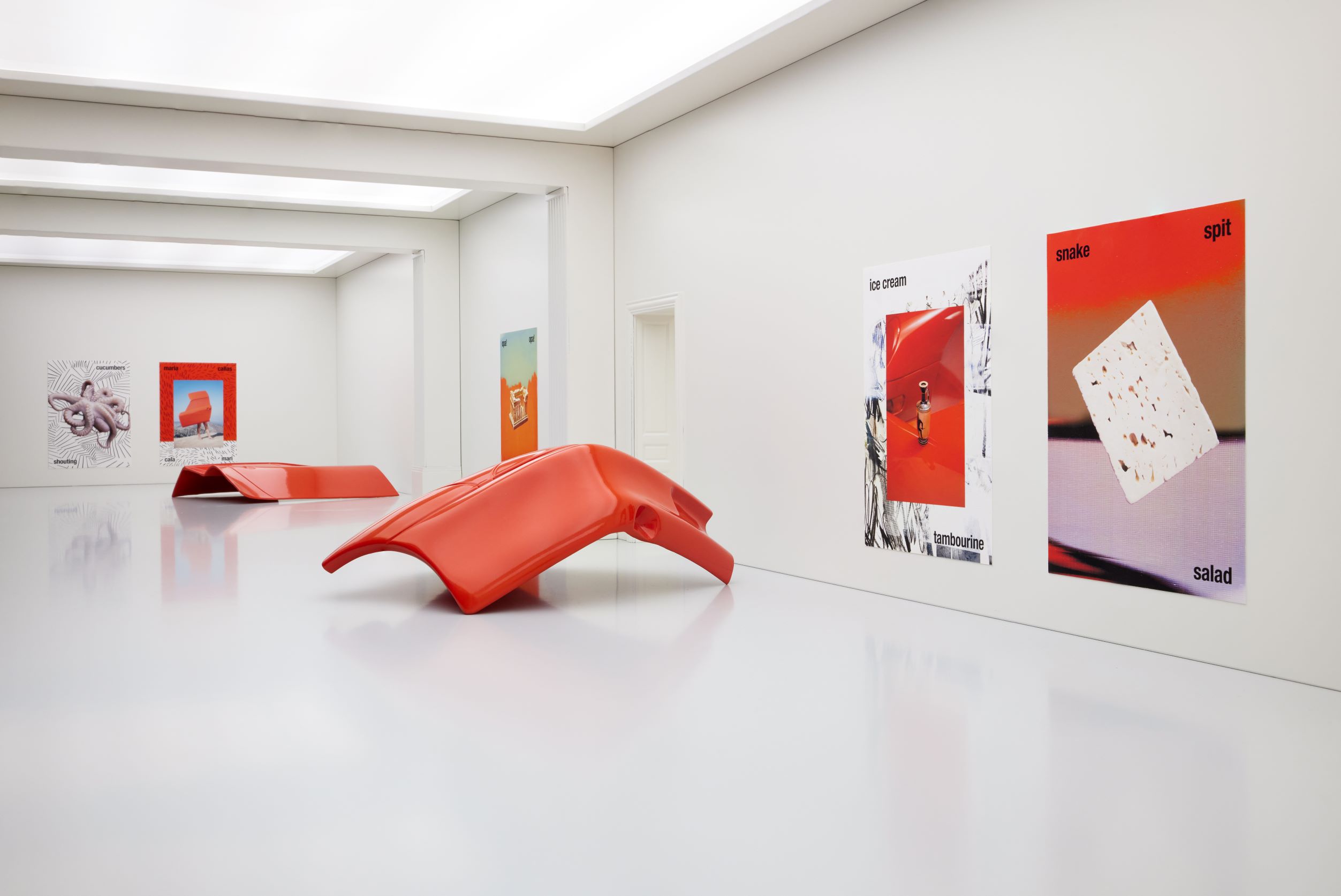 The Never Never
Artist(s)
Jeremy Hutchison
"Did you know, there are more Porsches in Athens than anywhere in Europe?"
(from a phone conversation between the artist and his father)
The Never Never was triggered by a piece of fake news. It was produced in Athens by UK artist Jeremy Hutchison and Belgian curator Evelyn Simons, in collaboration with Nova Melancholia - an Athenian performance troupe. This new body of work comprises a short film, photographic series, collage paintings, performance and sculpture. It will launch at the Kunstverein Harburger Bahnhof in September 2022, before touring to Casino Luxembourg in December 2022 and EMST Athens in 2023.
In this work, a fake Porsche 911 is divided into eight parts and worn by Athenian performers. Like hybrids from ancient mythology, these farcical creatures emerge from the sea, navigate a series of epic landscapes before arriving at a photo studio. All this is documented by an advertising film crew, who in turn become actors in the performance. The Never Never explores contemporary myths: fake news, luxury branding, national stereotypes and global capitalism. It examines how right-wing media used ownership of Porsches to make false and xenophobic allegations about the Greek debt crisis. Indeed, the project's title is slang for debt: it refers to the apparently never-ending number of payments on a loan.
Jeremy Hutchison (b.1979) is a British artist based in London. Working across performance, sculpture, text and video he intervenes in systems of production and consumption, perverting norms to produce crisis and absurdity. His exhibitions include the ICA, Modern Art Oxford, Kunstverein Wiesbaden, V&A, Z33, Prada Foundation, EVA Biennale, Jerwood Space, Saatchi New Sensations and Southbank Centre. He has completed residencies with Delfina Foundation, Arts Catalyst Raw Material Company and Hospitalfield. He received a distinction from the Slade School of Fine Art and was a fellow of the Whitney Museum ISP, New York.
Evelyn Simons (b.1989) is a curator and writer based in Brussels. Her activities centre around social practice and the mediation of contemporary art in public space. She runs the visual arts and performance programming at Horst Arts & Music, blending the worlds of contemporary art and architecture with electronic music at a derelict military base Asiat in Vilvoorde (Brussels' periphery). Alongside co-curator Isabel Van Bos, she is launching a new centre for contemporary art in the rural periphery of Brussels, Ter Rijst. Evelyn Simons programmes the artists-in-residence for Fondation CAB Brussels and Saint-Paul-de-Vence, and occasionally curates for Ballon Rouge Collective. As a laureate of Curate Award, Fondazione Prada & Qatar Museums in 2014, she curated Driftwood, or how we surfaced through currents (2017) Athens, of which The Never Never with Jeremy Hutchison forms the second chapter. In 2016 she was curator-in-residence at the Beirut Art Residency (LB), and in 2021 at Villa Lena, Tuscany (IT). Evelyn Simons has a Masters in Art History from Ghent University, and a Postgraduate degree in Curatorial Studies from KASK Ghent. 
Partners
With the support of: Fondazione Prada